Designed to promote pre-literacy skills
We built, tested, and validated three apps to promote pre-literacy skills through dialogue and playful interactions between children and parents/caregivers.  These apps — Animal Antics, Photo Play and Small Wonders — were developed in collaboration with FableVision and GBH and released by the Harvard Graduate School of Education. They are available now for free!
Download our apps
For more fun ways to support literacy, check out our free printables with coloring pages, recipes, games, and more!
We would love to learn from your experience with our apps. Please provide share your comments let us know if we can be in touch by submitting a contact form!
Learn more about the important role that families and caregivers play in children's literacy development as well as strategies to try at home.
Hear from Our Researchers
Reach Every Reader researchers sought to develop interactive apps for smartphones to encourage rich conversations between parents and young children. The team was led by Harvard Faculty Joe Blatt, Sr. Lecturer on Education, Meredith Rowe, Saul Zaentz Professor of Early Learning and Development, Paola Uccelli, Professor of Education, and Rosa Turco, children's digital media researcher. 




Validated Results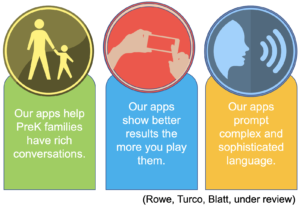 Our apps were validated through rigorous studies with over one hundred family participants from across the country. Findings showed the apps elicited rich conversations between parents and their 3-4 year-olds. Further, when comparing conversations during the first visit and last visit, parents and children had more sophisticated conversations with each other over time. The significant increase in children's language complexity was associated with how frequently the family used the apps in between visits
Two of the apps from this study, Photo Play and Animal Antics, were subsequently revised based on what we learned from the validation process. A third, Small Wonders, was then designed based on these research findings. All three apps are now available. 
Learn more about our validation study through a recent publication in the Journal of Applied Developmental Psychology.
Meredith L. Rowe, Rosa Guzman Turco, Joseph H. Blatt, Can interactive apps promote parent-child conversations?, Journal of Applied Developmental Psychology, Volume 76, 2021, 101326, ISSN 0193-3973, https://doi.org/10.1016/j.appdev.2021.101326.